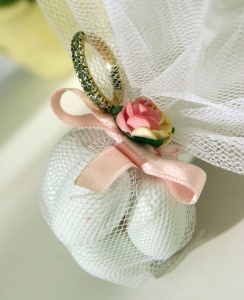 See the thing is, we could have sugared almonds. But I think they taste like sweet plastic.
Or personalise key rings. But no-one would ever use them.
Or even cute pot plants. But if it were me, I'd let forget to water it and that would be it.
So the current thought is to give everyone a seed bomb to do a bit of guerilla gardening on their way home and spread a bit of flower happiness.

We could even put them in little biodegradable net bags, like sugared almonds. With a very clear indication that they are NOT to be eaten!!!
I love the idea that our wedding venue will be the center of a centric pattern of wild flower clusters in all sorts of funny places.
Easy, practical, practically free (since we'll collect the seeds from flowers on the allotment. What could be better?